There was a twinkle in his eyes everytime he spoke of Berlin. Some of his fondest college memories were made in Berlin and he wanted his grandson to experience the same. As the grandpa-grandson duo sat on their terrace slurping away their coffee and watching the sun slip away into the crimson skies, the grandpa reminscised his good old college days. Berlin attractions became their center of discussion as he passed on tips on how to make the most out of Berlin as a student. The young lad immediately listed down the different Berlin tourist attractions as his Grandpa went on. Are you ready to read about some of the coolest and the most interesting things to do in Berlin? Read on to make your bucket list of things that you as a student would want to do in the fascinating city of Berlin.
More often than not, you may find yourself having a hard time in deciding the best country to study abroad, but when you get clarity on the educational options as well as the other interesting things to do, it helps you in making the right choice. Today's article will open the doors to the dreamy city of Berlin and the things that you as a student should definitely do.
The Top 5 Things To See In Berlin

From the stories of East and West Berlin, to stories from the past, present and of the future, and stories of tolerance and victory, Berlin has a tale intertwined with its every nook and corner that will only promise you of a mind-blowing experience. Your list of things to do in Berlin should include these touristy attractions that you would love to visit.
#1 The Brandenburg Gate

Have you ever fancied standing in the East and the West of a city at the same time? You can make this come true if you visit the Brandenburg Gate which is a symbol of separation from the East and West of the city. It is one of the most significant landmarks of the city.
#2 Sunset On Top Of The Berlin TV Tower

The TV tower in Berlin is the highest in the city and can barely go unnoticed. Who wouldn't enjoy watching the view of the sun setting as if it were parallelly beside you? While making your bucket list of things to do in Berlin, keep in mind that the price of the track ticket to enjoy this scenic experience is 21.50 euros.
#3 Holocaust Memorial

Remember in your history classes, when studying about World War II, you must have learned that Adolf Hitler had to hide during his last days? The Holocaust Memorial is but a stone's throw away from the hiding place which is a regular parking area now. Amongst the many places to visit in Berlin, this one tops my list. I also suggest that you get in touch with your history teacher and make a call to her/him when you're there. It'll make yours and their day!
# 4 Visit Museums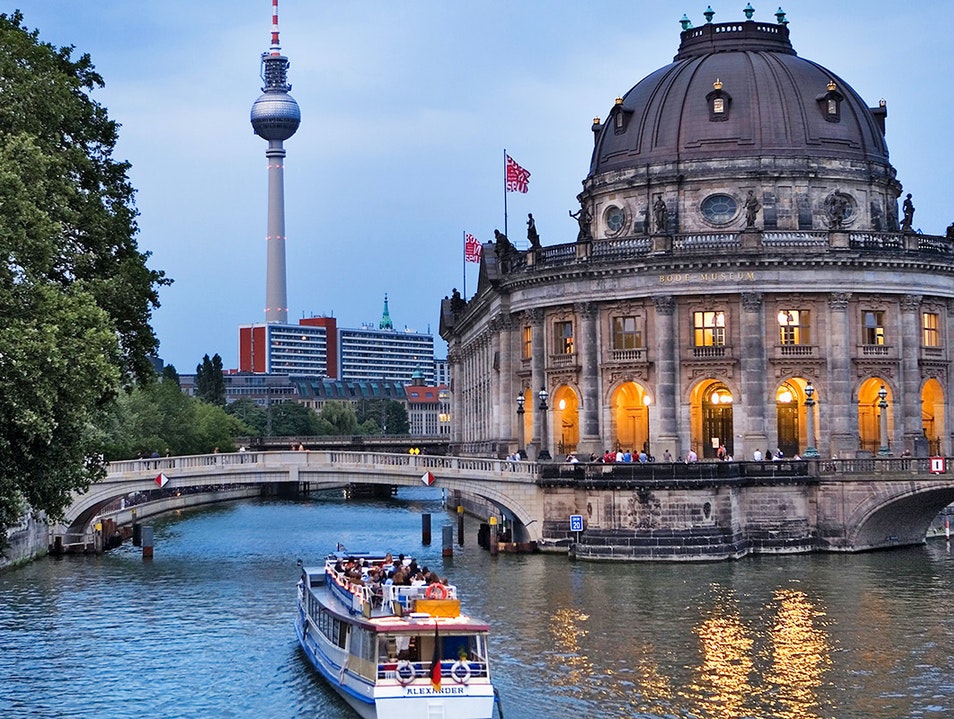 You cannot not go to museums in Berlin. Starting from visiting the ever famous Museum Island (which by the way, should top your list of things to do in Berlin), to seeing the sculptures in Pergamon Museum, the Egyptian Art in Neues Museum and Altes Museum, the detailed artwork carries a great significance which will leave you in awe. The Museum Island is a UNESCO World Heritage site and attracts thousands of visitors so if you are new to Berlin, make sure you grab the Berlin Welcome Pass, which offers 3 days of free public transportation, free entry to the Museum Island museums once a day excluding special exhibitions plus some bonus discounts.
# 5 Charlottenburg Palace

The Charlottenburg Palace reminds you of the royalty and elegance that echoed in Europe. There's a direct metro that will land you right at the gates of the palace wherein you will get to hear classical music melodies and experience the Baroque atmosphere. Add this to your list of things to do in Berlin and surprise yourself!
Unusual And Unique Things To Do In Berlin

# 1 Trabi Your Way Around The City

Have you heard of a trabi before? To get a glimpse of what it looks like, here's a video for you.
Imagine driving around this fascinating city of Berlin in a trabi! It is definitely one of the most fun things to do in Berlin symbolising the bygone East Germany.
# 2 Free Walking Tours Are The Best Therapy

It's a pleasant day out with cool winds blowing. You want to go out and feel the gentle winds caressing your face, so you decide to take a stroll. You can convert your casual stroll to a walking tour by joining free walking tours. You're on the therapeutic road now and you know that adding this to your list of things to do in Berlin has made your day!
# 3 CheckPoint Charlie Calling

Revamped in order to look exactly like scenes from the Cold war, visiting CheckPoint Charlie and taking a photo there is a must. It was a famous crossing point for West and East Germany back in the days and it now boasts of great sightings. There's even a museum after this point and it is worth a visit.
# 4 Try Base Flying If You Aren't Afraid Of Heights

Amongst the many things to do in Berlin, jumping from a 125 m high hotel roof is something you never must have thought of! The Park Inn Hotel Berlin lets you do that while giving you a set of instructions. This concept of base flying is not exactly similar to bungee jumping and this video below will explain it to you.

Chills! Literal chills!
Did you enjoy reading this blog on Things To Do In Berlin? If you wish to read more about Berlin and Germany, I think you will enjoy reading these blogs
You can find many scholarships on the UniScholarz website. Simply sign up for free today and start applying to your dream scholarships. If you need assistance with student accommodation and education loan, head over to UniAcco and UniCreds respectively, today.